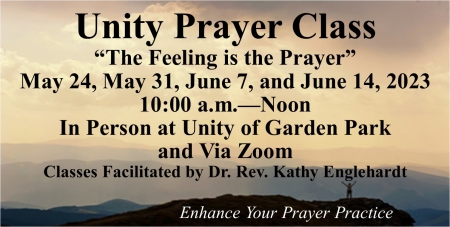 SAVE THE DATES
May 24 - June 14, 2023
How do we pray in Unity? 
Kathy Engelhardt is inviting you to a scheduled Zoom meeting.
Topic: Prayer Class "The Feeling Is The Prayer"
Time: May 24, 2023 10:00 AM Eastern Time (US and Canada)
        Every week on Wed, until Jun 14, 2023, 4 occurrence(s)
        May 24, 2023 10:00 AM
        May 31, 2023 10:00 AM
        Jun 7, 2023 10:00 AM
        Jun 14, 2023 10:00 AM
Join Zoom Meeting
https://us02web.zoom.us/j/82157251240
Meeting ID: 821 5725 1240
For the folks who may be curious about a special kind of prayer practice and for those who would like to renew their Unity prayer presence, this Unity credited class creates confidence, focus, clarity and ease by reviewing, discussing, and practicing personal prayer using a Unity Credited book, Principles of Unity Prayer, taught by Dr. Rev. Kathy Engelhardt.  
The class is being offered in person at Unity of Garden Park and via Zoom.  Zoom link and any additional details will be provided in the upcoming weeks.  
For those who are considering training and commitment as a prayer chaplain
at NTUC, this course is a pre-requisite.