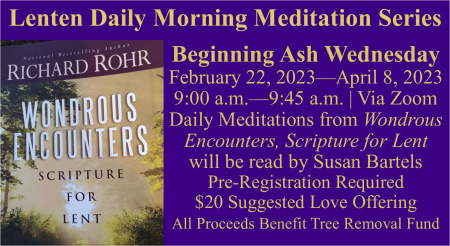 You are invited to attend the Lenten Daily Morning Meditation Series, beginning Ash Wednesday, from 9:00 a.m. - 9:45 a.m.  Daily Meditations will be read from the book Wondrous Encounters: Scripture for Lent, written by Richard Rohr. The book does not need to be purchased but can be if the participant wants to. The meditation will be read by Susan Bartels. Participants will have the opportunity to comment on the meditation.
Requested Fee or Love Offering: $20 for the Series...
More or Less as participant is able.
All love offerings to benefit the Tree Removal Fund.
If the TRF has been fully funded, then offerings will go to the general fund.
Love Offerings can be made online at this link:
Donate | New Thought Unity Center (ntunity.org)
Put Lenten Meditation in the notes section
Alternatively, your love offering can be dropped off or mailed to:
NTUC
1401 East McMillian Street
Cincinnati, Ohio 45206
Pre-Registration for the Zoom Series is Required at:
https://us02web.zoom.us/.../tZMrcOmtrzooHN0L-Y2vw...
After registering, you will receive a confirmation email containing information about joining the Meditation Series.